March 2018 Recap
NEW! Click here for a downloadable PDF packed with amazing insights from March's event.
What a way to start 2018's series of Show & Tell events! We had over 150 social media enthusiasts packed into Union Hall, buzzing with excitement to hear what our speakers had to say- and boy did they bring it!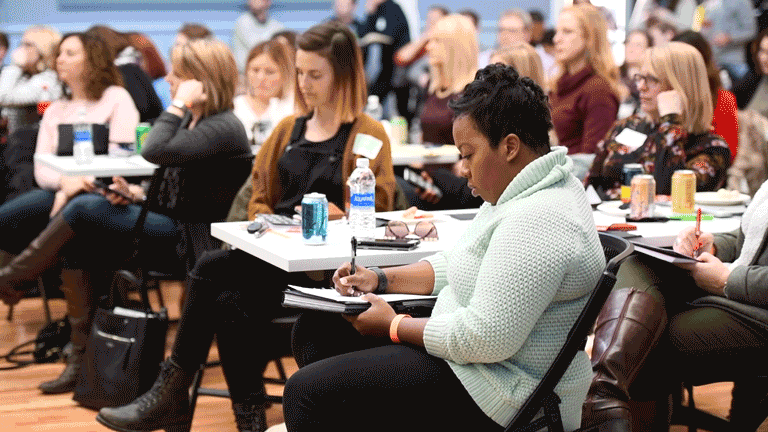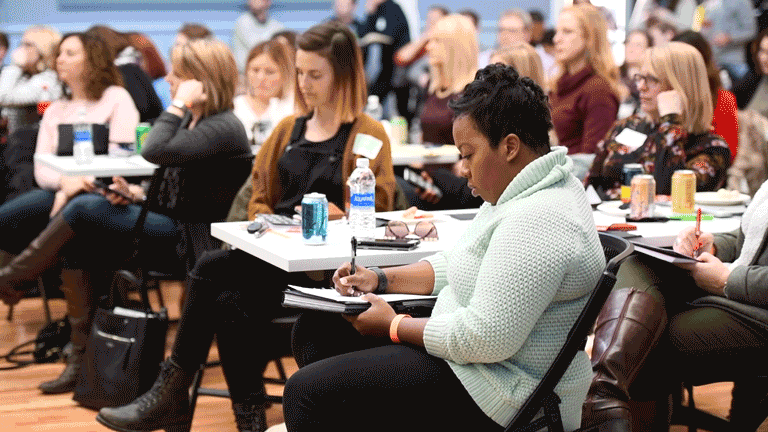 ICYMI: Social Media Show & Tell is a unique, quarterly event series that features thought leaders who share a behind-the-scenes look at "how the sausage is made" in the industry. Since its inception, the event has served as a gathering space for executives, strategists and consultants to continue learning what works best in the space.
SEE HERE FOR ALl of the event photos!
Recap - MARCH 22, 2018
Todd Henry- How to EFFECTIVELY lead Creative People
Have you ever wanted to learn how to draw the perfect Darth Vader? Well, while on a trip to Disney, Todd found the perfect set of instructions.
Super simple, right? Just start with a few lines then, in just four easy steps, you have your perfect Darth Vader.
In reality, however, we recognize that what pops out the other side is really the result of a lot of time, effort, and talent. Todd goes on to explain how in industries today, it's all about the "what". From the outside looking in, many people only see what creatives are producing. There's no how or why being talked about. Todd dropped another bomb early:
So, how can you effectively manage your creators? Here are two key takeaways from Todd's keynote that are actionable right now:
Key Takeaway #1: "You have to make the leap from the Maker mindset to the Manager mindset."
A great leader not only gets work done, but is more so able to influence their team with the "how" and "why" to better accomplish a given task. How can you define yourself as a manager, when you're so accustomed to defining yourself by what work gets done? By switching your mindset away from being the maker, you become a better manager for your team by focusing on the how and why.
Key Takeaway #2: "Know your peoples' quadrant."
In order to manage creative people, you have to provide them with stability and challenge. Stability helps give clarity in tasks and protection around their time, talents, and space. Challenge allows creative people to be pushed and influences new/risky types of creativity. As a manager, you can create a matrix of Stability vs Challenge. In most cases, creative people thrive in a high stability and high challenge environment, where they have the freedom to take risks and create new things while maintaining their stability. However, Todd reminds us that everyone is different, so it's your responsibility as a manager to understand which quadrant your people fall into. You may have team members that thrive in a low stability and high challenge environment. It's up to you to find out!
 
Amanda Buechel- Ephemeral Content
What the heck is ephemeral content? You've probably experienced or even used tons of it before. Amanda gave us a great example to kick off her topic: Ephemeral Content:
Adele used this clip in 2015 to promote her upcoming album at the time, and it was perfect.
 
Ephemeral content is any form of content that disappears after a certain period of time. Seems like kind of a weird thing to do, when all we want is for our content to make a big impact. Who would ever prefer that it disappears completely? Amanda shares a few reasons why you should make ephemeral content a part of your overall mix:
Allows you to tell your story day-to-day
Creates excitement and urgency (also FOMO)
Allows you to be real, go behind the scenes for a sneak-peek, and ask questions you may not typically ask
Boosts brand loyalty and commitment
Amanda dove into her experience with Graeter's, specifically her use of Instagram Stories to create ephemeral content quickly. She went on to explain that these examples below didn't take as much time to create as a longer lasting piece of content, which makes them quick & easy. To make ephemeral content as effective as it can be, consistency is a key factor - it'll keep fans coming back, excited to check in again.
Key Takeaway: Experiment & have fun with it!
Ephemeral content already has a short lifespan, so why spend too many hours on delivering it? Amanda shared the story behind the bracket pictured above: "We were just sitting around at lunch and started drawing this up. We didn't use a graphic designer and, as you can tell, we were just cutting up paper and glueing it down. That's the fun part about ephemeral content. It doesn't always have to be extremely thought out and designed. Ephemeral content is a great way to take risks while having fun with your content."
Gina Gaetano- Internet Identity (WHAT WE MAKE IS WHO WE ARE)
Gina works across 9 different brands in 9 states (19 different social media accounts), so you can find her internet identity all over the place. She started us off with some flashbacks...
When Gina was in middle school, she found herself experimenting with away messages and all the features of social media when it was first introduced. She was able to express her feelings and her thoughts in any font with any background music she wanted. Here's a glimpse of what Gina showed as the early stages of her internet identity: MySpace!
Even though Gina was young and contributing in (what felt like) meaningful ways, that creation actually meant something to her. That content creation was a reflection of her own personality, and that's why even your dark history of early social media days matter to your brand's content creation today. Gina went on to explain how her personal internet history reflected the content she was creating elsewhere. As you can see below, her initial pieces of content weren't exactly jaw-dropping.
But as social media evolved, so did Gina's internet identity. She learned more about new features and new software she could use. So as creator abilities evolved, so did the brands she was responsible for. Take another look at the picture above, then look below to see how Gina's personal evolution has led to amazing content creation today.
Key Takeaway: Pay attention to your history (even the embarrassing parts) to improve your content creation.
To remain creatively competitive, your best benchmark may be yourself - not others. The only way to learn and to grow is to keep making, and to have an innate interest in being a better and cooler version of yourself. The best part? As you do, you can look back and see how far you've come...which is fuel to keep forging ahead!
Gina finished off her presentation with the "guts" of how she keeps all of the social media chaos so contained...
She uses Sprout Social for Twitter and Facebook (scheduling content, monitoring, reports, etc). Each week, she receives 450 incoming messages across social media!
She maintains ever-expanding lists to keep herself organized
She does NOT use content calendars - instead, she's more on-the-fly and maintains a spreadsheet with content that needs to go up for the week. She aims for 4x per week per brand.
She has liaisons at each restaurant, who each send her content and help her answers questions (lots of text messages!)
She establishes different and distinct voices for each brand
It's amazing how much this one-woman-show can accomplish all on her own. The next time you dine at one of Thunderdome's restaurants, give Gina a shout-out. We're sure it won't be long before Gina follows up with a like or a reply.
THAT'S A WRAP!
We wish you the very best with all-things social in 2018. Stay tuned here for the next quarterly Show & Tell (sign up here to get notified), and please don't hesitate to share your ideas for both speakers and topics.