May 2017 Recap
This past Tuesday marked our third quarterly Social Media Show & Tell event! Held once again in Union Hall's Beer Hall, we packed the place with social media enthusiasts and our amazing social media experts. ICYMI, #showandtell was trending on Twitter and blew up your Instagram feed (in a good way). Without further adieu, here's the full recap - please share + comment below with any of your own notes.
Keynote: Identify & Engage Your Brand Advocates
We started the night with a keynote from Matthew Dooley on a crowd-chosen topic: influencer marketing.
A prime example of a larger brand utilizing this strategy is Sperry's. They noticed that a large number of users were posting to Instagram featuring their products, and they decided to take advantage. They then identified 100 micro-influencers to create content just as they had already been doing. The only difference this time was that Sperry's gave these influencers credit when they used the content for the brand's social channels, emails and website. Sperry's didn't have to pay one internet famous influencer $75,000 for just one Instagram post... all they had to do was give credit to these 100 micro-influencers.
Key Take-Away:
Put together a one-page plan to create your own influencer program.
Identify and recruit the right people
Nurture and excite them
Measure the impact and scale it up without losing the personalized approach
Lisa Braun: #VoteFrazier or Die
The MLB launches a 10-week ballot each year to determine the All-Star game lineups. The Reds were hosting the All-Star game and events, so they had to not only build awareness for the events but also try to advocate for their players.
By the time the 7th week's numbers rolled out, almost all Red's players had dropped out of the top 5, and these players were suddenly millions of votes behind. This became a huge "uh-oh" moment.
So with 3 weeks of voting left, Lisa got down to business. Todd Frazier was one of the only Reds players who was still in the rankings for his position. With only three weeks to go, Todd had to make up a deficit of 2,516,209 votes to reach 1st place. With the task at hand, Lisa created the #VoteFrazier campaign. Everyone from fans to strategic partners to other teams started to #VoteFrazier. The campaign was wildly successful, which led to Todd Frazier winning 1st place by over 2 million votes.
Key Takeaway:
Treat your followers as brand ambassadors! Just as Matthew said in the keynote. Reds fans were already bought into the brand, so it was easy for them to add their own value into the #VoteFrazier campaign. These fans became micro-influencers all on their own because they wanted to be able to influence their own followers to vote!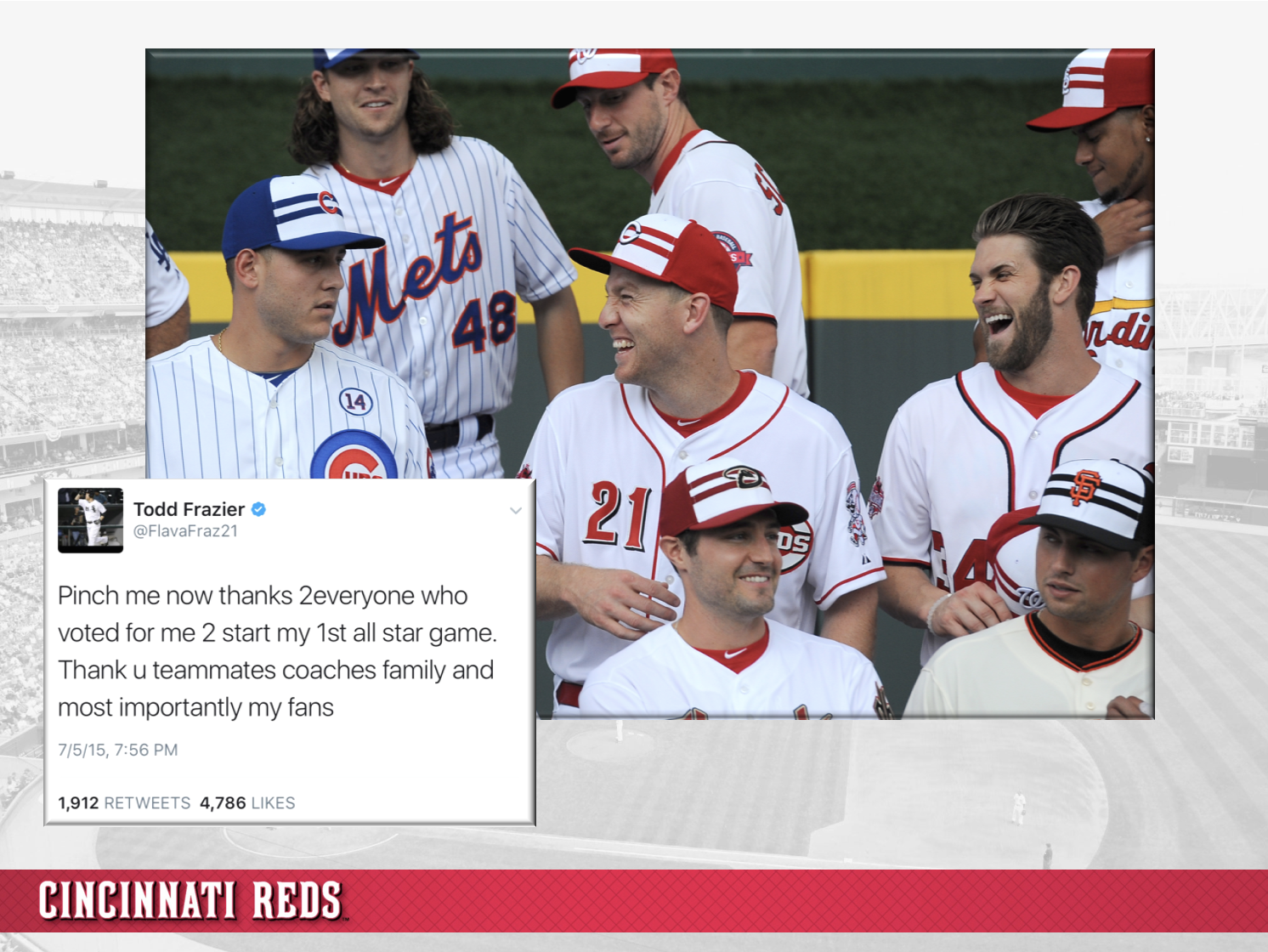 Steven Hudy: #LeahStrong
Out of a terrible situation, an entire community rallied around Leah Still (daughter of then-Bengals' Devon Still), who was diagnosed with pediatric cancer in 2014. With millions of supporters following Leah's story, a community began to grow and show support through the hashtag, #LeahStrong. It was ultimately a happy ending when it was announced she was cancer-free in 2015. Catch up with Leah's journey here.
Specifically within the Bengals organization, this social media following represented a tricky situation. The Bengals wanted to provide as much support to Leah & Devon as possible, while ensuring the right message was communicated.
In 2014, the Bengals announced that they would be selling Devon Still's jersey, with 100% of the proceeds donated to the Cincinnati Children's Hospital and Pediatric Cancer Care & Research. There were almost 15,000 jerseys sold, which set a record for the most jerseys sold in a 24-hour period in Bengals history.
Key Takeaway:
Be thoughtful and intentional with your social media presence. Just as easily as this campaign went right for the Bengals, it could have gone wrong just as quickly. The reason it succeeded was due to the genuine actions and language they were able to use. There was never a time where it seemed like the brand was trying to take advantage of a high-publicity story. Always remember to ask yourself why you're posting that update.
DJ Switzer: An FC Cincinnati Makeover
While not a specific event or hashtag, this brand makeover was an overarching campaign that led to FC Cincinnati becoming what it is today. When D.J. began working for FC Cincinnati, it was a brand new team.
Ultimately DJ's role was to help establish a club-wide, unified brand that represented this new FC Cincinnati team. He was able to do this by listening to real followers (and genuine soccer fans), developing a relevant voice, and benchmarking his progress.
Key Takeaway:
Develop a consistent brand voice and personality. As D.J. experienced, FC Cincinnati had a difficult time in the beginning with choosing a personality for their social media presence. Once they were able to establish a unified visual language, the social media content reflected that change, and the fans noticed. There was a larger amount of buy-in as well as more engagements.
Time for some Q&A
After each of our experts took the stage we took a short break for some Rhinegeist & Madtree brews, before getting right back into a Q/A panel session. The dooley media team had some prepared questions, but also opened up the floor for any audience questions. Matthew got us started as the moderator.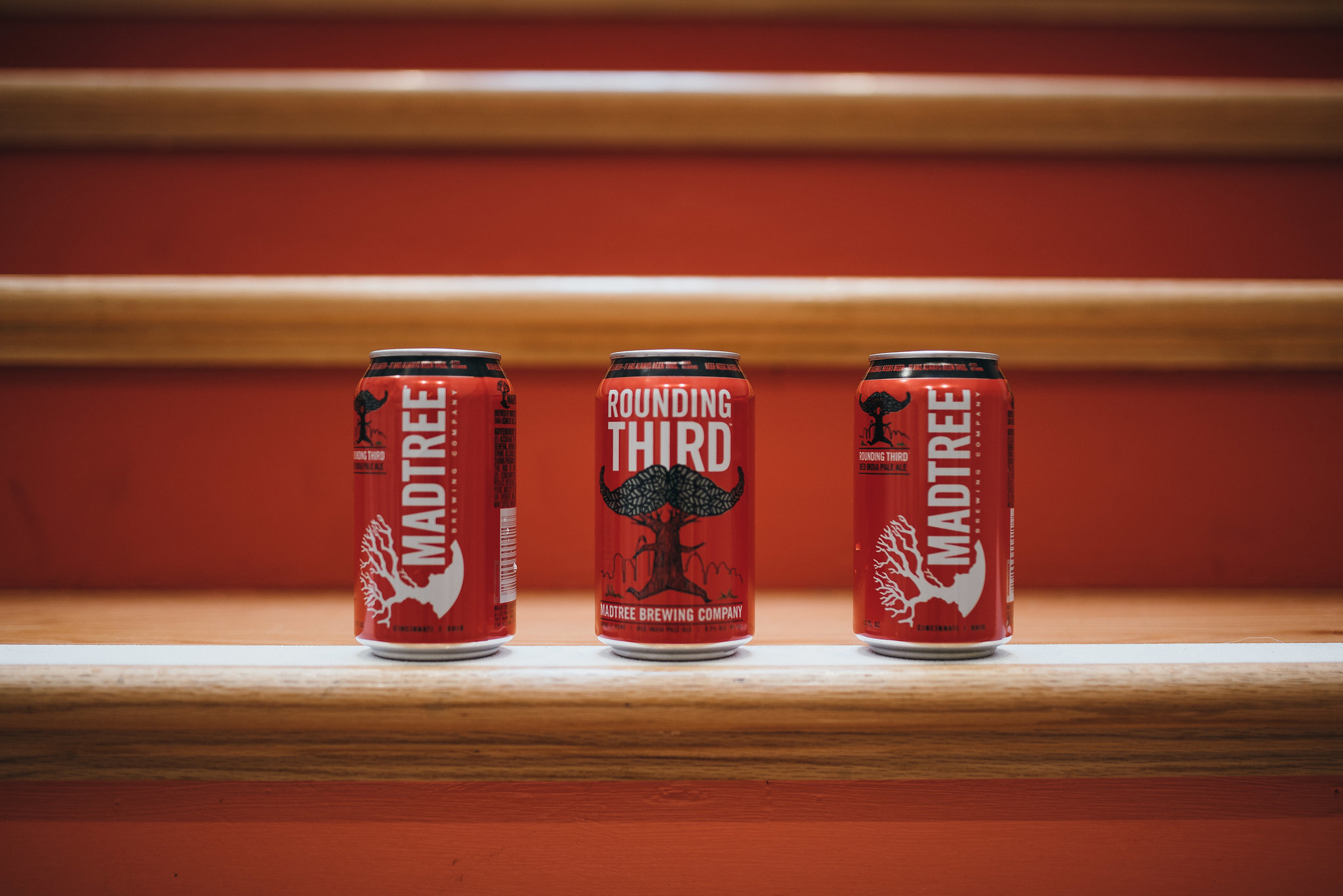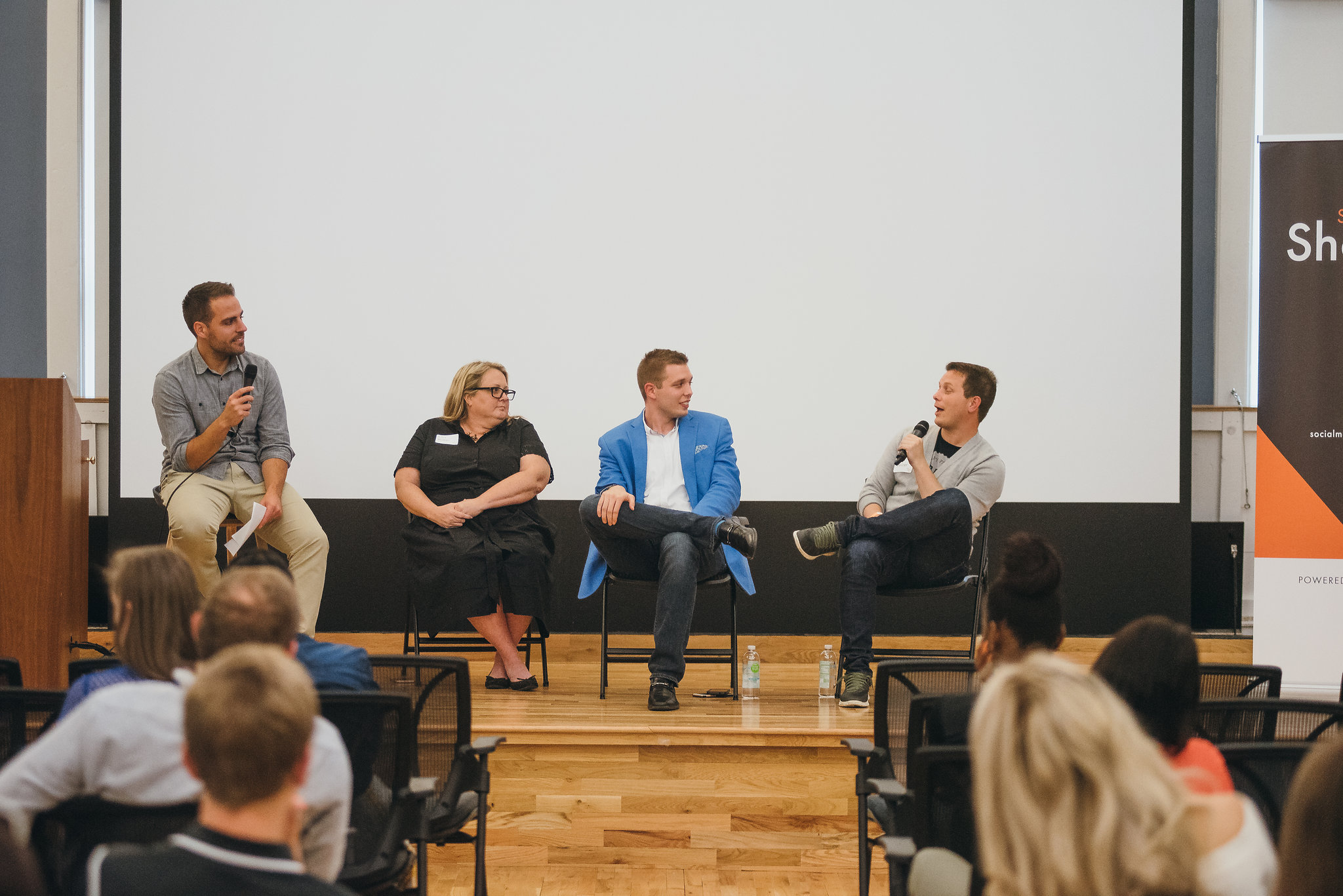 How do you gather the support from your brands to make your social media accounts successful?
DJ- You get a lot of buy in from your co-workers. They can either provide support or help you get it. We have a great staff at FCC, so I get a lot of buy-in from our departments/organizations.
SH- Figure out what your goals are. Is it revenue? Engagements? Fans? Once you know your goals you can get more buy-in because you know what you need/want.
LB- Over time, they saw the amount of content that was needed, and now this season I have an assistant for the first time.
What's your purpose for being active on social media? How do you equate social performance to ROI so you keep your job?
SH- My bosses mainly want to see the growth and engagements. For me, it's mostly that I want to see the largest audience with the same engagement rates we have now. Metrics drive what I do as a one-man-show but, at the same time, I'm more focused on the content.
How do you keep up with social media, while still being positive and engaging when your team starts to suck?
SH- We had a game last season that was 28-0 at halftime and I was crying at my computer because I had no idea what to do. You have to own up to it because fans will see through it.
LB- If you're too cheerleader-ish, you may get attacked on social. You have to know when to be quiet sometimes. We've traded a lot of players and lost some tough games. It's hard to do much about it. We started to put out highlights that end up looking like "We had 5 walks". We provided a little humor without trying too hard.
DJ- We haven't had a lot of opportunities to suck yet? Last year everything went right for us, and now this year we're learning more on how to get through those tougher things. The mute button has been my best friend lately because I was constantly thinking "Oh, that guy again". You can't ignore the total audience, but you can mute some of the trolls to help you get through it.
Speaking of negativity… Crisis management? Stories about how that's happened with you?
LB- I'm not just running our main account, but I'm also policing all the other employees and players to some extent. They still represent us while they're out there. I make sure that they know I'm there to help them but I'm not there to scold them.
DJ- Soccer players tend to be chippy. We haven't experienced it too much. Players will usually trash talk other players or teams sometimes… so I'm just watching to make sure there's nothing too glaring that gets posted.
SH- We've done a lot of good within the community over the past several years, but all it takes is one wrong turn to unravel it. Lisa actually taught me this a while ago: "You can only control what you can control." The players will control their own thing and it will be addressed if something goes wrong, but I'm in charge of the Bengals account and I can only control what I can control.
LB- It doesn't help to engage with the trolls. When I find people attacking our brand/team, I think to myself "If this is the worst thing in people's lives, then I'm happy for them." You just have to be able to ride the waves of fan emotions.
Workflow best practices or tools that are your favorite?
DJ- Tweetdeck is awesome. I used it before I was a professional, but a lot of people who are outside of the social media world don't know about it. A lot of what I've done the past year is figuring out my/our process. Finding a system and using my other teammates has been a big element in developing the best process.
SH- I use Tweetdeck a lot, too. We're using Spredfast a lot more. You can add tags/categories to posts so when you go to use reports, you can pull one of those tags and see metrics for those specific tags.
LB- We're using Adobe Social, but switching to Spredfast soon + Tweetdeck. I created an internal Social Media Core Team. It's made up of people from all departments. Each one is assigned to help me find/create content that we can use. That also means that our monthly meetings can be used more for best practices or important topics, and not just trying to come up with content.
What kind of trends are you seeing, or trends you think we should watch for?
DJ- My biggest advice and something I practice myself is learning more about social media platforms I'm not familiar with. I don't always know how platforms like Snapchat work, but I can figure it out and find out how to engage with that audience.
SH- Knowing the trends and keeping your eyes peeled. As 360 video becomes more reachable and affordable, there's going to be so much 360 video out there until the next thing comes....and chatbots.
LB- We're on 11 different platforms, but focusing on the big 3. I use interns to keep track of the day-to-day on the less focused-on accounts. I have an intern who runs our Snapchat right now, and ESPN emailed saying they want to use one of our snaps. So obviously he's doing something right. You just have to be able to keep up with what's happening and be able to find new pockets of people on different platforms.
That's a wrap!
Thank you to everyone who joined us for our latest Social Media Show & Tell.
The next Show & Tell is scheduled for August 2nd, so be sure to check back here for more information and tickets when they become available.